---
---
Many many thanks to Akaya.
This a version made with some of his GUI,s and scripts. Thank you very much Akaya because I was very lost trying to understand the Vyzor guide.
---
That is so awesome!

---
This is the first version of the GUI for
Midnight Sun 2
Still working on including a bit more info like guild effects, guild specific bars as well as a map.
Will update when more features are included and I do more work with the graphics.
---
I'd really like to thank the Mudlet developers for creating such an awesome tool, and everybody on these forums for being helpful whenever I ran into problems. I had a lot of fun putting this together.
Here's the new version of the Midnight Sun 2 GUI: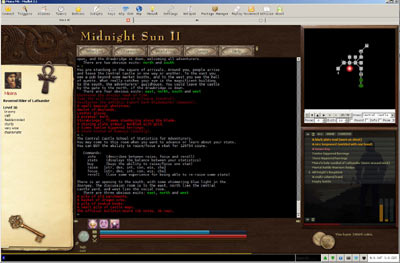 And here's a screenshot showing the world map with transportation points: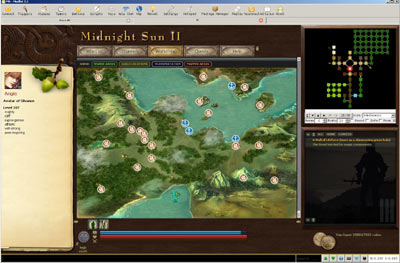 We had a huge game crash at the end of April, which set us back 6 months, including losing gmcp support and Beren's version of the GUI (which is also why the image in his post won't show). But tonight we were finally able to release the GUI to our players. So far it's in beta, and it has only been tested on Mudlet 2.1, so I am sure I will be back with more questions soon.

---
This is pretty sweet! Good work!
---
After getting the first feedback from our players, we released an upgrade that improves functionality, especially in the bottom area where the most important info is displayed. (I also added another dragon, because you can never have enough dragons.)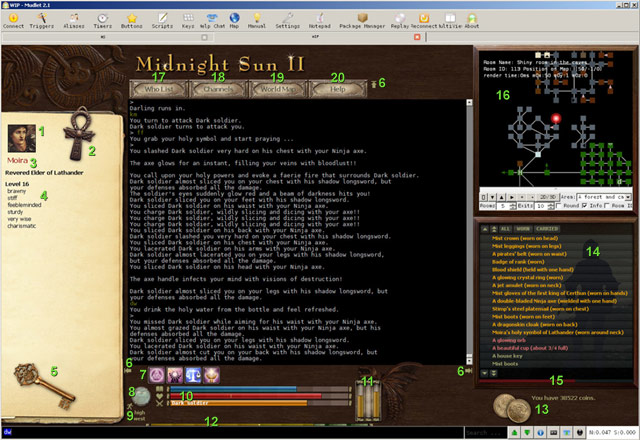 Overview of the main functions:
1. Character avatar.
About a hundred avatar icons come bundled with the GUI for the player to choose from.
2. Guild icon.
A trinket that has some thematic connection with the player's guild is displayed here (holy symbol for priests, acorn for druids, whetstone for blademasters etc.)
3. Character name and title.
4. Character stats.
5. House key.
If the character owns a house, the key will be shown here.
6. Layout adjustment.
Clicking these arrow icons collapses any or all of the left, top and right sections. Useful on smaller resolutions. Since the upgrade, Mudlet will remember which sections you had collapsed.
7. Active effects.
Icons that show what spells or skills are affecting you.
8. Alignment indicator.
The gem gradually changes colour from dark purple (demonic alignment) to bright white (saintly).
9. Wimpy info.
Shows the level and direction of wimpy.
10. Vitals gauges.
Mental, physical, opponent health (and opponent name). The health bar also has an indicator of wimpy level.
11. Fullness gauges.
Show how much more alcohol, food and non-alcoholic drinks you can consume.
12. Exp gauge.
Shows experience progress to next stat.
13. Money.
How much money you have on hand.
14. Inventory.
Equipped items are shown in yellow, kept items in red, carried items in tan. Can be filtered using the buttons at the top.
15. Burden.
Shows your burden level.
16. Mapper.
17. Who list.
Not yet active, needs more gmcp support in game.
18. Channels console.
Ditto, we need to add more gmcp support in game first.
19. World map.
Opens a graphical world map that can display guild locations, newbie areas, mapped areas or places of transportation (ports and dragon hitchhike points).
20. GUI help.
Opens an interactive help that displays info about any element of the GUI on mouseover:

If you want to check it out, it now autoinstalls, but it only works on Mudlet 2.1 (for some reason the autoinstall freezes on Mudlet 3.0).
---
Posts: 97
Joined: Wed Jul 25, 2012 12:35 pm
English is not my native language. If you don't understand what im writing ask.

Ubuntu 17.04, Mudlet 3.1
---
Posts: 334
Joined: Thu Mar 05, 2015 2:53 am
---